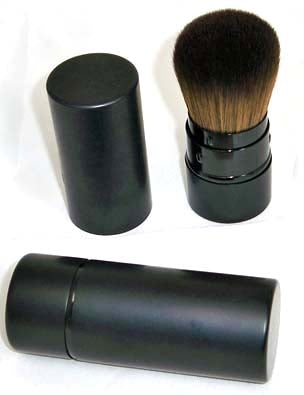 Retractable Buki Brush
Brown Faux Fibers  - Synthetic Brushes that are cruelty-free & vegan approved! 
Change by Celeste Randall now offers luxurious, super-soft faux hair brushes the perfect combination of softness and delivery.
Most commonly referred to as "Taklon" in the industry…the Brown Faux brushes have a blend of both straight and wave effect bristles mixed together.  
Our special hair mixing capabilities combine various diameters of this synthetic filament to achieve flawless application.
 

- Odor and dye-free when washed
- Minimal shedding (if any).
-They clean & dry quickly making them ideal and safe for sensitive skin.  
No animal hair is used in the manufacturing of the new synthetic brushes;  therefore absolutely no animals were harmed or used in any way.